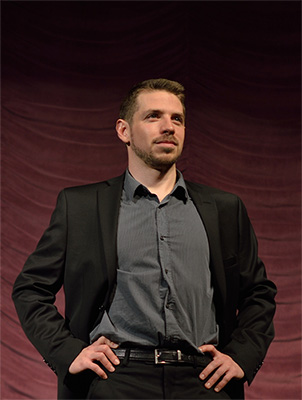 The main teacher for vocal training is Luciano Marazzo. Born March 30, 1985 is a tenor from Buenos Aires, Argentina. Musically trained from a very young age, he was part of the studios of teachers such as Silvia Leidemann (Piano), Irma Costanzo (Classical Guitar), Maria Soledad Espona (Soprano). His musical training in Argentina goes from 1989 until 2005. After playing simple classical compositions on the piano, he moved on to continue exploring different styles and instruments.
By 2001, Luciano began playing Classical Guitar at a more refined level. He participated in small shows and presentations for the studios of his teacher and other presentations at shops, theaters and wineries. In 2002, Luciano Marazzo received an equivalency for 2 years of Conservatory Studies from the Guitar Studio of Irma Costanzo. By 2003, as his voice began to mature and stabilize, Luciano started singing opera under the wing of Maria Soledad Espona. By 2004, he had been accepted into a summer coaching session at the Teatro Colón in Buenos Aires where he received coaching from Lucia Boero.
Currently, Luciano is performing regularly in the US and South America. His signature recitals are: "Serenade" (a recital of popular songs in Spanish, French and English) and "Prosa" (A Romantic Recital for Tenor sung in Italian, German and Russian). On December 2015, Luciano made his professional Opera debut at the Moore Theater singing the Duke of Mantua (Lyric Tenor Role and Principal Role of Rigoletto). This show was staged by Lyric Opera North West under the direction of Pamela Casella and conduction of Brian Davenport.

"As a Vocal Coach, I focus mainly on timbre, text delivery and style. This is why I teach from the languages to the music. There are two basic components for any sung material that must be accepted as they are.
Technique is the first one. Singing requires three things: airflow, adduction of the vocal cords and resonance. For one to sing efficiently for the audience, the emotions must also be intelligible. Those emotions must be shown on the timbre of the voice and also with the words. The text of a Song (or an aria) already have the emotions and if the composer did his due diligence, the music will even make it easier to decipher. But most of the repertoire is in a variety of languages. Learning the languages for correct understanding of the text and the pronunciation is crucial."
Malesuada eu nibh feugiat suspendisse nunc sapien varius interdum, non malesuada morbi taciti neque pellentesque eleifend porta diam, arcu vel quisque lacinia urna porta vehicula. fermentum imperdiet erat iaculis a augue venenatis cras nulla, duis torquent interdum integer fusce posuere erat laoreet vel, potenti placerat consectetur varius scelerisque massa euismod.
Tempor eu lorem urna accumsan imperdiet bibendum, est vivamus leo a justo ac lobortis, rutrum lorem eget tempus est. platea sapien quis lacinia himenaeos congue lobortis a augue, vel erat ornare quisque proin quisque laoreet dictumst, magna cursus tincidunt condimentum cursus curabitur tortor. platea enim nulla mattis conubia, accumsan posuere.
Tristique rutrum aliquam nec class enim feugiat phasellus quis aptent tellus ligula, fringilla eleifend sed justo malesuada nullam vivamus nulla donec. augue risus amet magna posuere mi eleifend vivamus bibendum nisl torquent, sodales maecenas nulla sociosqu dictum metus senectus malesuada nisi, sodales sagittis inceptos quisque pretium placerat amet curabitur lorem.