Website Development
The Online Music Guild Web Development Team understands that linking websites does wonders for every member in the network. If the visibility of one site goes up, every other site automatically is more visible. Purchasing our web development packet is not just for looks, it makes you grow as we grow.
Why is this an opportunity?

     The quality of services and final product is very high and our prices are significantly lower than independent designers or design companies. Furthermore, we are experts in the fields that you need: Music and Web Design. Hiring us will save you not only money but it will free up your calendar.
     There are many companies that offer "DIY" (do it yourself) services. Those sites present you with the idea of a free site with advertisement and slowly they feed you monthly prices that stack up to ridiculous monthly fees. Our product is better, cheaper in after 2 years of service and far more attractive to your visitors especially if you are a musician. The Online Music Guild is committed to deliver a website that reflects the profile you need to give as a classical musician by highlighting your best qualities. 
     With DIY sites, you are required to spend time, money and become an expert. Furthermore, in the long run, you will spend more money on their limited services and your site will always need more work, optimizations and features.
The competition in a graphic perspective: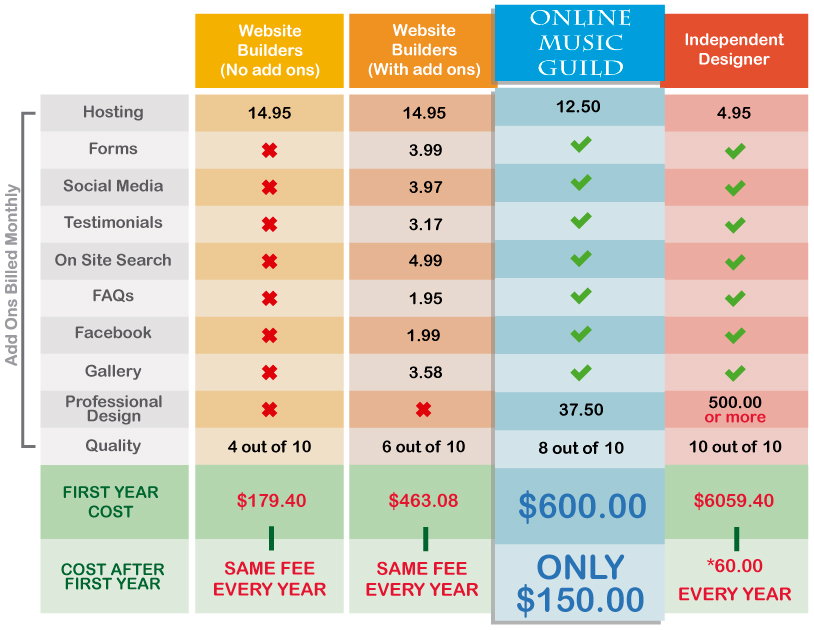 Please contact us for more details:
Web Designer
This email address is being protected from spambots. You need JavaScript enabled to view it.
Billing
This email address is being protected from spambots. You need JavaScript enabled to view it.