The Online Music Guild - Presents
Edith Olvera - #StayHome Concert

Edith Olvera is a classical guitarist from Mexico, she started her studies at the age of 12. Now she´s finishing her studies in music in the Conservatory of Music of the State of Mexico.
In 2019 performed as a soloist in the project "Colectivo temporal: Elogio alla Brouwer", playing pieces of this amazing composer, in many scenarios of the State of Mexico, for two years in a row (2020-2021) she performed in the IV and V encounter of woman in the classical guitar, and in 2021 in the video "La llorona" by the Cleveland Classical Guitar Society (CCGS) and the Cleveland Mexican Committee.
She has been in different master classes with international guitarist like Arody García, Antonio Laguna, Mauro Zanatta, Rodrigo Neftalí, Edoardo Catemario, Dimitris Kostronakis, y Vojislav Ivanovic.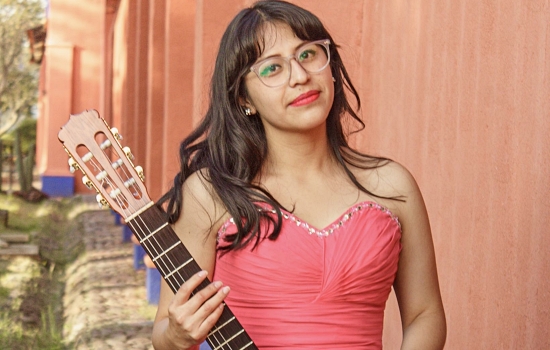 Edith Olvera
Classical Guitar