The most amazing arrangement made to this spectacular overture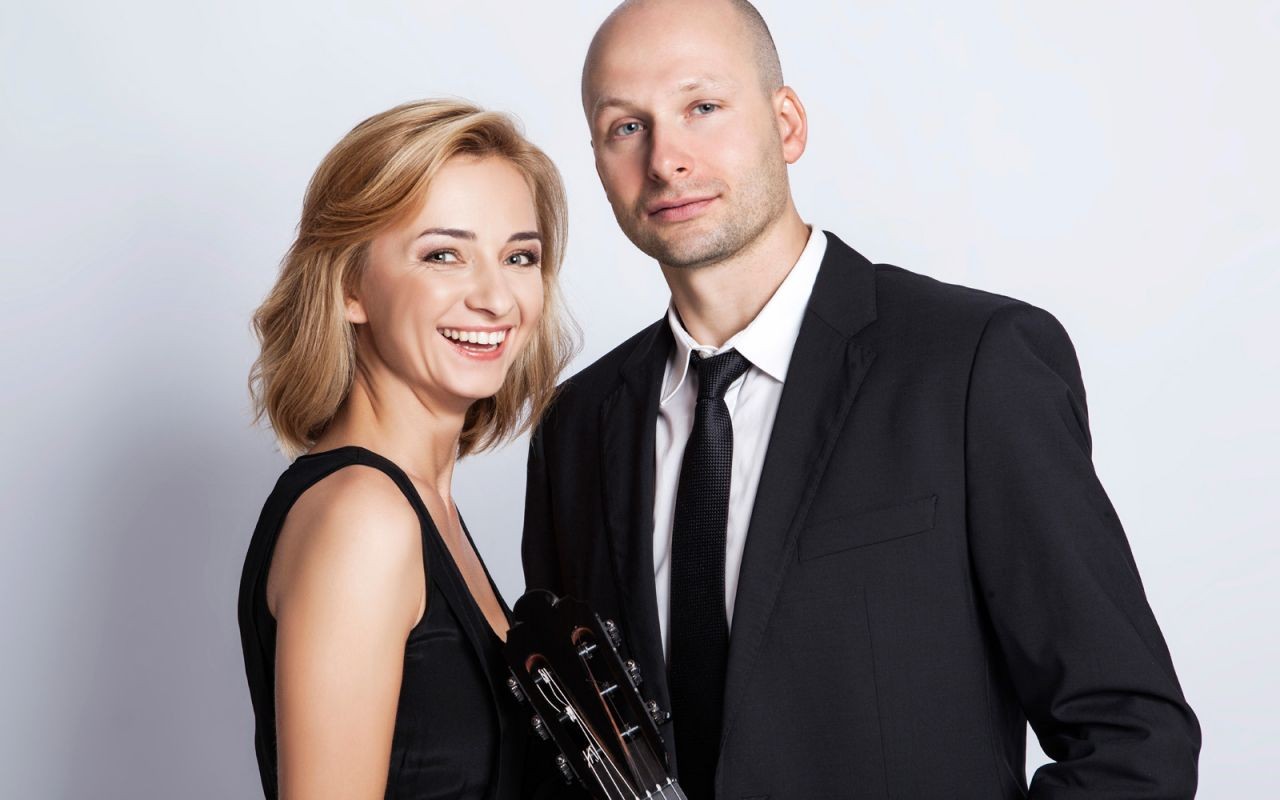 KUPIŃSKI GUITAR DUO

Ewa Jabłczyńska & Dariusz Kupiński
The Kupiński Guitar Duo is the peerless example of artistic talent in the world of classical music and one of Europe's most renowned guitar duos. Acclaimed by both the public and critics alike as two musicians with a brilliant technique, passion, quality of sound and infinite elegance. In addition to the numerous solo achievements, after graduating the Karol Szymanowski Academy of Music in Katowice (guitar class of prof. Alina Gruszka and prof. Wanda Palacz) and Hochschule für Musik in Weimar (guitar class of prof. Thomas Müller-Pering), Ewa and Dariusz decided to establish the guitar duo, bringing to their performances a masterful sense of ensemble and charming personal chemistry.
As soloists and in a duo they have won numerous awards in important international competitions (Weikersheim, Parma, Tychy, Viareggio, Bojano, Erwitte).
They have been honoured multiple times with prestigious awards and scholarships for artistic achievements, such as "Young Poland" Scholarship, the Polish Minister of Culture and National Heritage Scholarship and DAAD. They have played recitals in Europe (e.g. Poland, England, Germany, France, Slovakia), USA (e.g. Washington, Houston, San Jose, Oklahoma City, Louisville), Mexico and China.
As a part of their passion for education, they have been invited to give Master Classes in Europe and Latin America. Ewa holds the Doctor of Music degree in guitar performance and is currently teaching at the Institute of Music of Jan Długosz University in Częstochowa. Dariusz is sharing his knowledge with students through teaching at the Stanislaw Moniuszko
1st and 2nd degree State Music School in Zabrze.
In 2011 their debut CD "SPANISH MUSIC" has been released. From that time this husband and wife duo has been gaining momentum and attracting fans throughout the World.
Their latest CD (2016) features mostly arrangements of music of Chopin, Rossini, Piazzolla and Gershwin.
With a growing reputation for performing with tremendous energy and artistry, their aim is to create a rich and varied concert experience for audience through great performances of great music.
Their website: http://kupinskiguitarduo.com/index_uk.html

"For one that loves Chopin, listening to the Duo perform Chopin on the guitar, it is not only the sound captivates but also the intricacy with which they have worked out the motifs and phrasing." – South Bay Guitar Society /USA/
"In a bold move, the Duo has also done an arrangement of Gershwin's Rhapsody in Blue". Attempting to fit that broad expanse to two guitars and doing it justice was the Duo's bold move! They too, created a masterpiece. It is the Rhapsody in Blue, not the orchestral version, but rather the version Gershwin, himself, would have written for two guitars; brilliant!" - South Bay Guitar Society /USA/
"That the concert of Kupinski Duo received a standing ovation is a testament both to the quality of the duo's performance and to the sophistication of the Marlow Series audience that heard and appreciated it." – Duane D. Morse, John E. Marlow Guitar Series /USA/
"Duo with spectacular technique, beautiful quality of sound and a rich variety of colors."
Jowita Dziedzic-Golec, RMF Classic
"The elegant sound, unique arrangements and tremendous musicianship make the Kupiński Duo exceptional. Ewa and Dariusz are perfect combination of individual personalities. New classical guitar identity!"
Marcin Dylla, guitarist
"The concert of Kupinski Duo was full of colors, creative fantasy and essential touch of two young guitarists."
"Twoja Muza" Magazine